Victoria
Victoria's populated by creative and industrial types and is one of the country's major manufacturing states.
Besides its delightful wine regions, there are also many opportunities to see Australia's renowned and beloved wildlife including koalas and kangaroos.
---
key facts
Location: The south edge of Australia's east coast
Population: 5,886,000
Size: 227,416 km2
weather
Despite its small size, Victoria's climactic range is broad – from the north east snowfields that see temperatures below freezing to the semi-arid (and very dry) north west. Generally, though, it has a cool, temperate climate.
Summer average: 18–21°C
Winter average: 6–12°C
Average rainfall: 400–1,500 mm
local economy
The Victorian economy has the fastest annual growth rate in Australia.
The industries with the largest number of workers in the state include healthcare, retail and manufacturing. Construction, education and hospitality (food, accommodation) are also key contributors.
about victoria
Victoria is Australia's smallest mainland state in terms of land mass yet houses the second largest population of any state in Australia.
It's a highly urbanised state with more than 70% of Victorians living in its capital city, Melbourne. Like much of Australia, Victoria has an abundance of picturesque landscapes, with 36% of Victoria being covered with forest.
Its southern coastline borders on the Bass Strait, which separates Tasmania from the mainland, while the Great Ocean Road connects many of Victoria's coastal towns and cities and offers a deliciously scenic view of the state's beaches.
Located just under an hour's drive to the east of Melbourne, the Yarra Valley is Victoria's oldest vineyard region and even has some of the country's most historic vineyards. Wine production here was first established in 1838.
about melbourne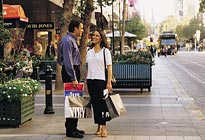 Melbourne has a reputation across Australia and the world for being on the forefront of arts and culture.
It's home to the world renowned Melbourne International Comedy Festival, which is Australia's largest cultural event and attracts around 800,000 people who come to see comedians from a variety of different global destinations and artistic sensibilities.
The city is also known for its bar and café culture, particularly in suburbs such as Brunswick, which has many quirky and interesting shops.
And who could forget Melbourne being the home of Aussie Rules football (which is affectionately known as 'footy')? Especially when each September and October people flock from all over the country to watch their favourite teams battle it out in the finals.
handy links