Sport
With our sunny days and outdoor culture, it's no surprise that Australians love watching and playing sport of all different kinds.
At an international level, Australia has particularly strong teams in cricket, field hockey, netball, rugby league, rugby union.
We host some of the world's major tournaments (such as the tennis' Australian Open), and we also perform well in cycling and swimming.
australian football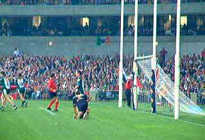 Known affectionately as 'footy' or the AFL here and Australian Rules Football to the rest of the world, it's the most highly attended spectator sport in Australia.
It's also one of the most played team sports, with a season that extends from March to September/October and the most fanatical following in and around its birthplace of Melbourne.
There are currently 18 teams who compete in the Australian Football League (AFL) which is the highest professional level.
There are 18 players a side on an oval pitch with four posts at each end. Unlike soccer, there's no offside rule and players may kick, carry or hit the ball (though there are special rules around this).
The game's origins and influences are thought to include Gaelic football, rugby and the Aboriginal game of Marn Grook.
cricket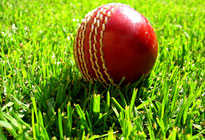 Cricket is the most common summer spectator sport in Australia and is usually played on the same grounds as Australian football.
There are six domestic cricket teams who compete against each other annually for the prestigious Sheffield Shield and ING Cup.
The season extends from October to the end of March.
rugby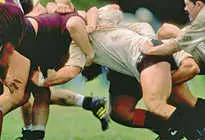 Two different types of rugby are played in Australia: Rugby League (a competition between New South Wales, Victoria and Queensland) and Rugby Union (internationally).
The national sides for Union and League are known as the Wallabies and Kangaroos respectively.
water sports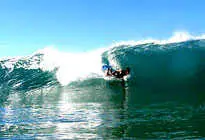 The Great Barrier Reef is off the north-eastern coast in Queensland and is a mecca for scuba diving and snorkelling.
Sailing, fishing and surfing also take place on Australia's lakes, rivers and beaches. Sydney's Bondi Beach is probably the famous surf zone in the country.
In some cities such as Perth, it's common for households to have their own swimming pools.
athletics
The International Olympic Committee president Juan Antonio Samaranch declared the Sydney Games "the best Olympics ever". We thought it was pretty great, too, especially considering we came fourth in the medals tally, winning 58 medals.
Hosting the Commonwealth Games in Melbourne in March 2006 also adds to Australia's reputation of world-class sporting venues.
football (soccer)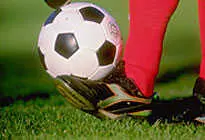 Soccer (football) in Australia has tended to be a minority sport played by immigrants from Europe but it's now the most popular team sport played by Australian children under 14.
Australia also has a national women's football team called the Matildas.