Northern Territory
The Northern Territory has a rich history of visitors and residents, from early explorers to 20th-century soldiers and a wide range of indigenous cultures.
Named after the famed biologist, Charles Darwin, it's home to the iconic Uluru and the World Heritage listed Kakadu National Park that's spread over almost 20,000 km2!
---
key facts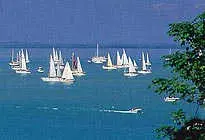 Location: The northern half of the continent, in between Western Australia and Queensland
Population: 244,000
Size: 1,349,129 km2
weather
The NT has a desert climate in central Australia and a tropical monsoonal climate in the coastal north that sees a dramatic, stormy wet season and a sunny dry season.
Summer average: 27–33°C
Winter average: 12–24°C
Average rainfall: 200–2,000 mm
local economy
The economy of the NT strongly relies on the industries of construction, government and community services, and mining, which account for about half of the territory's total economic output.
In January 2015, the NT was said to have the best economy and job market thanks to increased construction spending and investment in the gas industry – though population growth was found to have slowed.
Housing prices vary greatly depending on location and the most densely populated part of the NT is the Top End Region (which is, as it sounds, the northernmost part), in and around the state capital of Darwin.
The Central Region, which includes Alice Springs, is the second most populated region, followed by the regional cities of Katherine and Tennant Creek.
A variety of remote communities are situated throughout the state, with broad expanses of distance between them.
about the northern territory
Due to its varied landscapes and the broad distances between towns and cities, the NT is known for its cultural and geographical diversity.
With the highest percentage of indigenous people in its populace, it's home to Arnhem Land, which is owned by the Yolngu people who have occupied the region for at least 60,000 years.
Arnhem Land is famed for its stunning coastlines, rainforests and fishing locations, as well as being the birthplace of the iconic indigenous Australian instrument, the didgeridoo.
about darwin
Darwin is home to almost half of the entire territory's population, which includes a wide variety of nationalities and ethnicities. This multicultural vibe is highlighted by its frequent cultural festivals and weekly craft and food markets.
The traditional owners of Darwin are the Larakia people, who are an Aboriginal nation today numbering around 2,000 people.
The people of Darwin enjoy beautiful outdoor weather from May to September, when sunny days and cool nights make it a popular season for visitors.
Due to its monsoonal climate, the city experiences the highest level of rainfall between December and March, which is often accompanied by spectacular lightning storms.
Darwin is frequently described as Australia's 'gateway' due to its proximity to Southeast Asia, making it a hotspot for industries including mining, gas production, tourism and cattle export.
Handy Links